Full Face Mask (FFM) Certification @ Dive Key West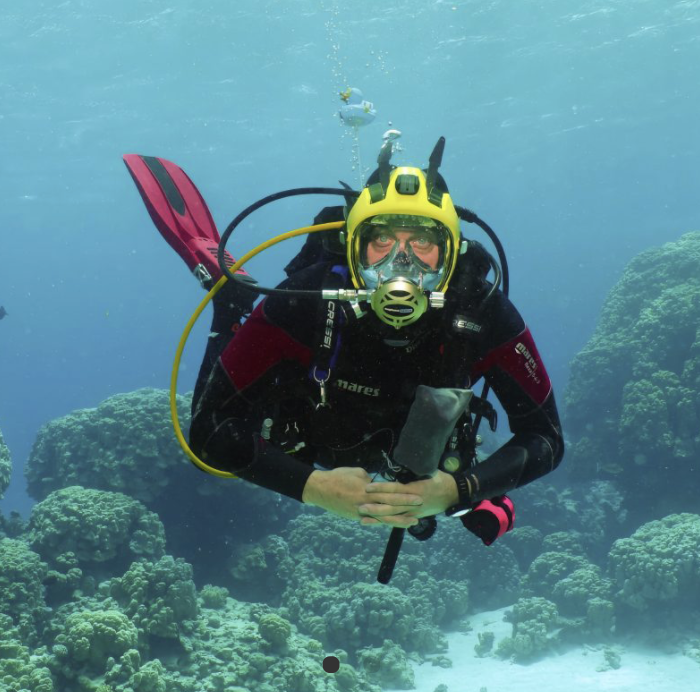 Kesto: 3 Päivät (noin)
Paikka: Key west, FL
Tuotekoodi: P9586C
Full Face Mask (FFM) Certification
Who should take this course?
Any already certified Open Water Diver can become a FFM certified diver. FFM students must first be Open Water Diver certified first before getting certified.
Capt. Hook's is offering a "Try-FFM" in which a student for $99 can try FFM. If they are interested in pursuing further we will then offer the certification course and the $99 will be applied to the $325.00 for full certification.
Here are some of the advantages to Full Face Masks:
Positive points of use:
Does not fog - never needs defog
Does not leak -positive pressure keeps water out.
Natural breathing - breathe through nose
180-degree field of vision - better overall vision
No jaw fatigue - no biting on a mouthpiece
Face remains warm in cooler / cold water
Eliminates concerns of having water on the face
Corrective eye wear can be worn
Communication system can be used - eliminates confusion / increases safety. These masks can have added two channel comms to communicate with one another and the dive boat if configured. This will allow the instructor to communicate with two different groups over the two channels. The communication distance is about 800 to 900 ft.
Prerequisites

15 years old or older
Open Water Diver
Medical Statement

Time to Get Started!
1. Go to the Booking Calendar and select the first day that you would like to attend the class. Be certain to select the quantity of participants that are taking the course. Complete the booking and fill out all of the information requested. You will receive an email confirmation from Capt. Hook's and a phone call from our instructor to discuss further details about the Enriched Air Diver course here at Captain Hook's.
2. Decide if you would like to take try FFM first before certification select and enter the quantity for Try-FFM Experience. There is nothing like a test run to see if it is something that would interest you.
3. Add-on 1: Complete FFM Certification. We will choose this option if you like your experience and want to continue your FFM certification.
Dive Preparedness
Please note: In the interest of your safety, please be aware of the following requirements.

• If it has been more than one year since your last scuba dive, you will be required to dive your first dive accompanied by one of our complementary dive guide.
• If it has been over 2 years since your last scuba dive, you will be required to take a Scuba Refresher course or Scuba Tune-Up.
Advance Purchase Recommended
Upon booking, you will receive your receipt in a email confirmation. We recommend booking in advance to ensure your space on the boat.
Booking Confirmation Info
Bring your email confirmation with you on the day of your activity, if you have booked in advance.
Cancelation Policy
We understand your travel plans may change. With that in mind, Capt. Hook's has a very simple cancellation policy: As long as you cancel outside of 24 hours there is NO charge. However, if you cancel within 24 hours or NO-SHOW the day of your class/course or trip we will be charging the full amount of the dives or 50% of the course/class. Thank you!